Knit a Planet and Money Saving Market Bag – Free Pattern!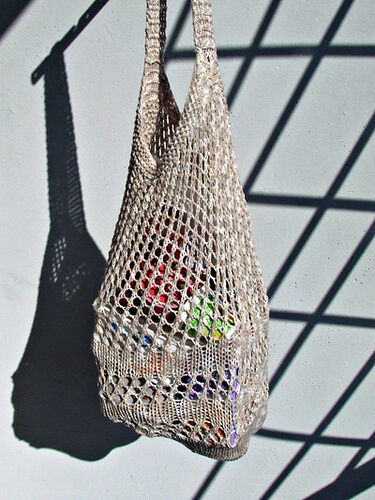 |
The world is having some problems as we know, from rampant consumerism to climate changes and threats of global warming, to scads of plastic bags languishing in landfills around the world and negatively affecting the environment and the surrounding animal populations everywhere.  I thought it would be a great idea for us to each knit at least one re-usable grocery bag to contribute to the cutdown on the need for the manufactured plastic ones.  Heck, I may even make 2 or 3 if they turn out well!  With 2 young men in the house to feed – I need LOTS of grocery bags!
Special thanks Krista A. for sharing her Mineco knit grocery bag pattern with us.  Of course it doesn't just have to hold groceries, these types of bags are great carryalls for anything!  It is also a great stashbuster so that you can put the remnants of projects past to good use!
The free knit bag pattern can be downloaded straight from Ravelry by clicking here.  Then all that's left is to knit it!
Be Well Friends!
Laura & Bruce
**While on the Spinner's Husband Blog page, we would seriously appreciate if you would click on a few of the Google Ads found there.  Clicking is free for you, but it helps to support our site in bringing you fresh, free patterns daily!  While there, you can also check out the Amazon Ads and stock up on any needed craft supplies or anything else!  Thank you!