Crochet the Manger this Season – Free Pattern!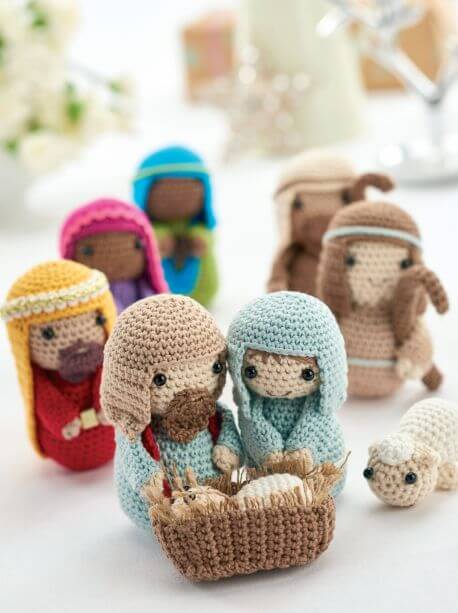 |
As the Holidays approach in these last few days, we often become so swept up in the hustle and bustle and shopping for that perfect gift, and the ringing of bells, that we lose sight of the real reason for the Christmas Season.  This sweet crochet pattern will serve to remind you and hopefully all those who see it, of what is really important in life, such as love, human kindness, and doing to/for others what we would want someone to do to/for us.
I have always wanted to make one of these sets, because I have been enthralled by the Nativity Scene in many different styles and mediums.  When I came across this little crochet Nativity Scene, I knew two things – first, that I need to share it with you, and second, that I will be making it myself for next year!
It will be the perfect thing to use up some of the smaller bits of yarn in my stash, and the color of the robes can be at your discretion, so no limits on what colors you unearth for this stashbuster!
Special thanks to Let's Knit.co.uk for sharing this free pattern with us!
To view and crochet Part 1 of the free Nativity Set, please click here.   Part 2 will be posted tomorrow, so please stay tuned!
Be Well Friends!
Laura & Bruce
**As previously mentioned we would really appreciate it if you could click on some of the ad links on our Spinner's Husband Blog page, as this is what enables us to continue bringing you extra special and free crochet patterns each day!  We also encourage you to look at the Amazon Ads on the side of the page to check out our listings for additional crafting supplies.  Thank you so much in advance for any assistance you can give us in this regard!