Crochet a Pretty Slouchy Hat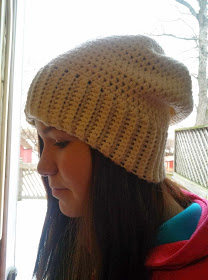 |
Slouchy hats seem to be gaining in popularity year to year, so I thought it was a good time to get started on your crochet Fall and 
Winter accessories for you and/or someone you love.
This pretty little crochet slouch is just the ticket for a great winter hat – it is slouchy but not ridiculously slouchy, the fabric has some breathing/air holes in it, so you won't be plagued with sweaty hair.
Something else that may inspire you to make some is that teenagers LOVE them!!  So…if you have ever struggled with your child and tried in vain to get them to wear a hat when it's cold outside, make them one of these and they will wear it non-stop!  It's a total win/win!  You get to crochet, and they get a warm head!
They would also make great Christmas or Holiday/Birthday gifts, and can be an excellent stash buster too, great for using up single skeins of yarn in your stash, or yarn remnants if you would like to make them stripey!!
Special thanks to Jessica Clark from Crafty Crochet and things . blogspot . ca for sharing this great pattern with us today!
To download your copy of today's crochet slouch hat pattern, please click here.
Please also remember our Preemie Hat-Tastic Contest, and spend a bit of crocheting time making teeny tiny baby hats for the contest!
If you would be so kind, could we also request that you take a moment and click on some of the Google Ads on The Spinner's Husband website?  No purchase is necessary, but each click helps us to continue to offer you fresh free content and patterns on a regular basis!  We truly appreciate your help with this!
Be Well Friends!
Laura & Bruce