Crochet Quick and Easy Dog Harness – Free Pattern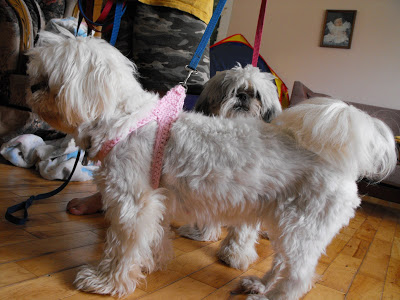 |
This type of crochet harness is my all time favorite style.  They are easy to step in and out of, do not tug on small dog's sensitive tracheas, and give you much more control in general over your little 4 legged friend!
I was delighted to see that they can now be crocheted and put together using items you likely already have at home.  If you do not have any "O" rings or "D" rings, they can be easily found at a craft or hobby store, or ordered from ebay or etsy for a few cents each.  I have a drawer full of bags of various dog harness, leash, coupler attachments because I knit and crochet custom made dog sweaters and leashes and harnesses to raise money for the rescue work we do.
This is a great project to use up leftover wool in your stash, making it a great stash buster, however, if you have a larger dog, or are concerned about just ordinary wool not being strong enough to hold your dog if they are a powerhouse, or enjoy tugging and pulling on their walks, you may wish to crochet the harness using macrame cord or "Para-cord" which, according to my son, is all the rage in the survival communities now.  I also make Para-cord survival bracelets for humans that my son and his friends love.  If you are wearing one of those, you are never without a survival rope if something should go wrong on your travels.  If you do go up to a larger gauge and sturdier fiber such as macrame or Para-cord, be sure to adjust your crochet hook, # of stitches etc in order to accommodate the additional bulk and still have the harness come out the right size for your little friend!  These are also very quick to make and would make nice little gifts any time of year for your friends with dogs of their own!  Who doesn't like to have their best friend (not you, the dog!) included in the gift giving and festivities!
People have also taken them down a size or two and used them for rabbits and ferrets, chinchillas and Guinea Pigs too!
This is what they look like before a pooch steps into them.  Pretty basic, as you can see.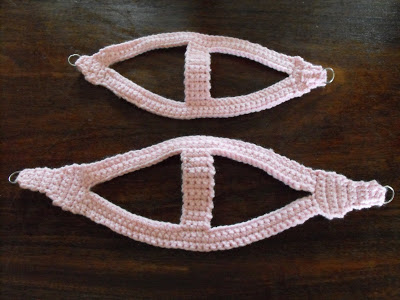 Special Thanks to Tisha LeBreton of Luvs2knit for this lovely and simply-made crochet dog harness!
To view this free and easy crochet dog harness, please click here.
Be Well Friends!
Laura & Bruce