Two Needle Socks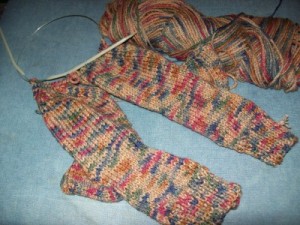 |
Knit Socks with 2 Needles or 1 Circular Needle.
This pattern shows us how to knit socks using 2 Needles instead of the 3 we usually use.  What I thought was unique about this pattern is that she made both socks at the same time using circular needles.
She use separate balls of yarn for each sock.
Karen did this as it took the measuring out of the equation as both socks would be exactly the same length, cuff and all.  We thought it was a great idea and will try that the next time we make some socks.
The pattern is from Jack Frost Volume 57- Two Needle Socks. 
Here's the original pattern:
Two Needle Knit Ombre Socks
Size 8 ½ to 11
1 Pr. Standard No. 5 Needles
SCALE: 6 sts to 1 in.
JACK FROST KNITTING WORSTED—3 oz.