Time for 2 Needle Winter Mitten Knittin' [Free Pattern]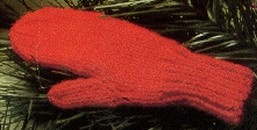 |
With Fall skidding to a close, and winter close to setting in, it is time to think about something a little more substantial to warm our hands on those frigid days.
If you feel intimidated or uncomfortable with using DPN's (double pointed needles) or Circular needles, you will most definitely appreciate this simple and free 2 needle knit mittens pattern I have found.  I have been knitting and crocheting since my Grandma, who must have had the patience of a Saint, (bless her soul) taught me when I was 6 years old, and I'm 53 now, knit and crochet daily, and have yet to make a pair of mittens on DPN's or Circular needles, simply because it is so quick and easy to whip up the 2 needle knitting pattern.
There were some questions as to what size needles they are calling for – the pattern states a #5 and a #7.  That translates to 3.75 mm (#5) and 4.5 mm (#7) metric.  I hope that helps a little bit.
On a personal note, I always make any mitten cuffs about 1 – 2 inches longer than called for to make sure that they do not leave any type of gap between your mitten and coat, because bare wrists feel the cold too!  This is especially important for children, to have the cuff extend well into the snowsuit or winter coat!
You can also make them stripey or color blocked, which could help you further deplete your ever growing stash!
Cold hands wait for no-one, so without further delay, please click here for the Free 2-Needle Mitten Knitting Pattern and warm the hearts and hands of all those you love!
Special thanks to Jane Lake and Spin A yarn.
Be Well Friends
Laura & Bruce