Knit Gift Bags [Free Pattern]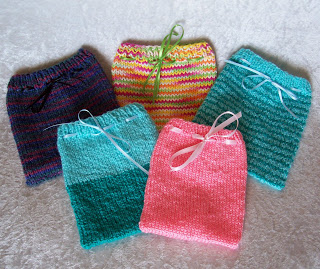 |
With the holidays fast approaching, this free pattern for the Knit Gift Bags is particularly relevant.  Knit up these little guys and pop a wide variety of trinkets into them!!  They are sure to be a hit with the recipients!
I came across these little knit gift bags in my manic search-a-thon yesterday (Note:  a great way to avoid household chores!)  I was enchanted by their simplicity and the number of ways they can be used, and the variety of treasures that could be put into them for holiday gift giving!   I know my 7 year old granddaughter will be the happy recipient of several!
They can hold trinkets, gift cards, bars of homemade, scented soap(can double as a soap sack!), candies, etc.  They are limited only by your imagination!  They also make excellent stocking stuffers when filled with any number of items!
These little knit pouches are an excellent stash buster as well, and will happily "eat" all of your leftover yarn if you let them!
Special thanks to Carissa Browning from www.Carissaknits.com for the pattern!
To view the pattern for these sweet,little Free Knit Gift Bags, please click here.
Be Well Friends, and Happy Gifting!
Laura & Bruce