Anthropologie Inspired – Free Knit Hat Pattern – Super Bulky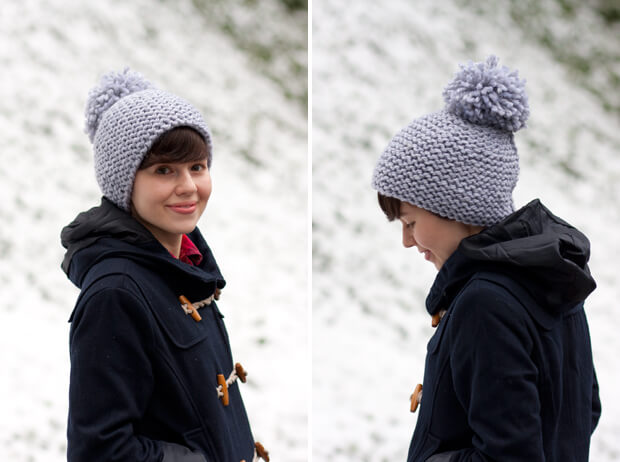 |
Pom-Pom's aren't just for Babies or Cheerleaders anymore!!
I was thrilled when I found this Anthropologie Inspired Pom-Pom Hat as a Free Knit Pattern!  My daughter fancies herself as some what of a "Fashionista", and loves herself the name brand merchandise!  I however, do not love the price tag that comes with those original name brand items, and as the thrifty mother I am,  I always try to DIY – clone them myself or check online to see if someone already has!  In this case, I was in luck, and now so are you!  If you have a "Fashionista" in your life as well, consider making one, or maybe two or more in various colors to tickle their fancy!  Guess what my daughter is getting for Christmas!???
This is a very beginner-friendly, fast and easy knitting pattern, as it is simple garter stitch (knit each row) throughout, knit flat in pattern, but could also be joined on a circular if you were more experienced or so inclined!  Then you make a Pom-Pom(if you actually want a Pom-Pom), and sew it on top.
For simple instructions on how to make a pom pom using 2 cardboard circles, please click here.
If you want to make it a little more challenging to keep your interest up, you can also play with the free knitted hat pattern by maybe putting a couple rows of ribbing at the beginning to give it a more "tailored"appearance, you can knit it in stockinette stitch, or ridges of garter and stockinette stitch or any other stitch you may want to try – it's pretty much a blank canvas for you to experiment with!  You can also make it a slouchie hat by just knitting a few more rows to give it the length you want.  Let your creativity run wild!  They whip up in no time at all, and would make lovely and thoughtful gifts for this holiday season!
Special Thanks to Jessica Parsons-Taylor from Is + Was blog for this great pattern!
The pattern for this Anthropologie Inspired Pom-Pom Hat is found here.

Be Well Friends
Laura & Bruce