Knit this Light as a Feather, Open Air Summer Wrap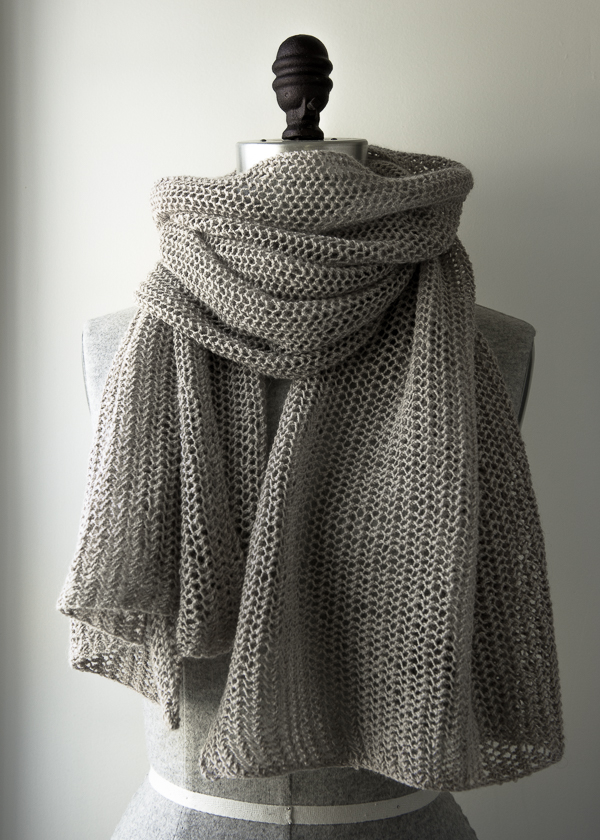 |
I have long been an admirer of the website Purl Soho, and their pattern site Purl Bee, and visit them frequently to drool over their knit and craft supplies, check out their new patterns, and of course their yarn!
They have the most lovely and aesthetically pleasing knit items, and it is an absolute pleasure to dip your toe into that pool of luxury from time to time.
We have been overtaken by some pretty hot weather here on the West Coast, and I was looking for a wrap that was light and cool but would conversely be warm and cozy when needed.  Of course Purl Solo has exactly that in this delicate knit wrap.
The wrap was originally made out of a Habu Paper Wrapped Silk yarn, and it leaves an extremely open weave, and the yarn appeared to be a little stiff and crunchy until washed.  However, the everquesting staff at Purl Soho decided to try it out in another type of yarn "Linen Quill".  Those results were gorgeous, so with 98 stitches, one row repeat and several skeins of the sportweight yarn of your choice (as luxurious as you can manage), you can have yourself a gorgeous summer wrap too, and be the talk of the town.
The picture of the knit wrap that I am showing in this knit invitation is the one that was made with Linen Quill.  I will also direct you to the webpage which contains the actual free knit pattern originally done in "purse stitch", and you can see how it looks in the silk wrapped paper.  The choice is up to yourself, and as I said, you can substitute with any dk or sport weight yarn.  I am thinking a nice silky bamboo myself for a slinky, out of this world wrap to throw over my shoulders on a cool summer night!  This just might be the one!
To access the shawl's knit pattern, and see the photos of the wrap done in the silk wrapped yarn please click here.
This is a fairly simple, and quick knit, and you should be able to have it done before summer sets in in earnest!  Enjoy your summer and keep those needles clicking!
If you would prefer to discuss with me making one of them for you, please let me know.
Special Thanks to the folks at Purl Soho for bring us so much beautiful inspiration and luxury yarns!
Be Well Friends!  Have an Awesome Weekend!
Bruce & Laura