Knit this Stunningly Gorgeous Gossamer Infinity Scarf – Free Pattern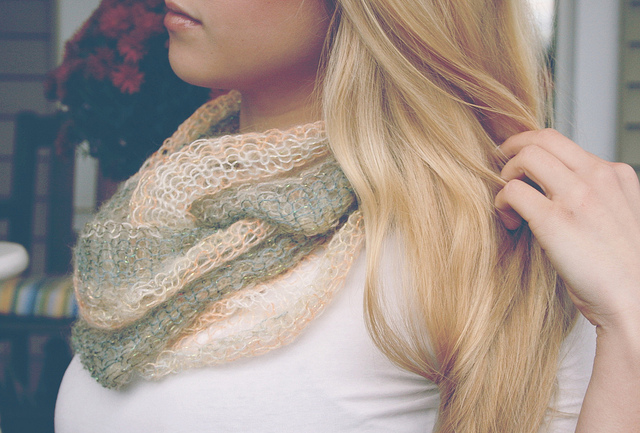 |
Are you looking for a simple yet breathtaking gift for that hard to please friend?  Does the friend have discriminating taste?  You can't go wrong with this free knit infinity scarf pattern.  Made with super high quality yarn, perhaps with a bit of glitter for good measure, it looks like it was made by what the author calls "Fairy Fingers".
This free knit pattern whips up in a jiffy, and is very. very, VERY basic as far as knitting skills required.  The magic happens when you use a very very thin, very very high quality halo'ed yarn on larger than recommended needles.  It creates an open web of softness that defies an adequate description.
When you tell your friends that you made it yourself, be prepared to go up a notch in their "crafty friend" esteem!
So, search, find, and dust off that incredible skein of yarn in your stash that you have been saving, because you are not going to find a better pattern to use it on!  This can be a stash buster extraordinaire!
Be a knitting superstar today!  Treat yourself to some Fairy Fingers!!
Special thanks to Erin Kate Archer and her terrific blog for this phenomenally beautiful and phenomenally simple knit pattern!
You can access the knit pattern by clicking here!
Be Well Friends!
Laura & Bruce