Free Knit – The Cutest Classic Cable Napkin Rings Pattern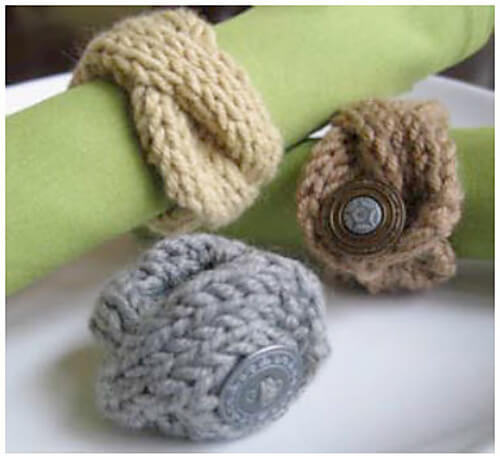 |
We are most likely going to be setting at least one table with our "Sunday Best" this season as friends and loved ones gather to break (short)bread! and enjoy one another's company, and absorb enough good will, calories, and camaraderie to warm out hearts in months to come.  This Free Knit Cable Napkin Rings Pattern is elegant in it's simplicity and as such, makes your table setting stand up and be counted.
This little pattern is quite small, so should work up very quickly – I wouldn't be surprised if you could get 3 or more done per night while watching TV etc., so you will still have plenty of time to knit a set (or two) in time for the holiday gatherings!
You will see that the knit napkin rings are embellished with a type of brass or old silver blazer or uniform button, however that option does not have to be carved in stone, you could use some holiday colored buttons, bright silver or gold buttons, buttons shaped like flowers, antique buttons from your Grandmother's button jar etc, and you can also choose the color of the yarn and make each set a one of a kind work of art!  You can match them to your napkins or have complementary or contrasting shades of knit cable napkin holders if you'd like.
Make some for friends or co-worker(s) for Christmas, or as an anytime Random Act of Kindness gift.  It is a great opportunity to hone your cabling skills too!
Another plus for me is that they only take around 15 yds of yarn, so another terrific stashbuster!  Make some for every special holiday – soft pastels for Easter, Harvest colors for Thanksgiving, Festive colors for Christmas of course!  Go wild!!
Special Thanks to Michelle Hunter at KnitPurlHunter for creating this wonderful pattern and for sharing it with all of us!
To get your free copy of the Knit Classic Cable Napkin Rings pattern, please click here
To download, please click the Free Download button you will see.  As always, we would love to see your pictures of any that you have made, and your feedback on how you found the pattern while you were knitting it!  Would you make them again?
Be Well Friends!
Laura & Bruce