Knit Novelty Parlor Cat – Free Pattern!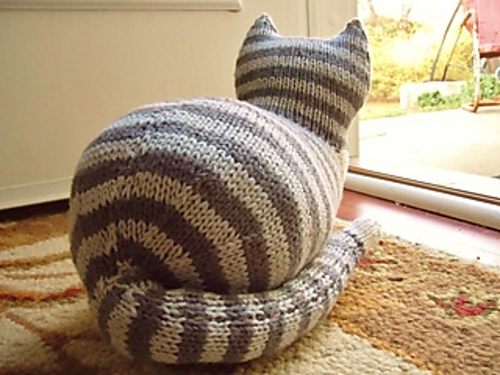 |
This adorable knit "Parlor Cat" pattern is something that is a novelty piece to get your visitors talking!
Once it is knit up, I thought that you could also add a brick or bag of rice or dried beans to give it some weight so that it can function as a doorstop.
If you're allergic to cats, but absolutely love them, you can show that love by knitting yourself a kitty that will not make your eyes water and have sneeze and sniffle attacks!  You could also show them some love by knitting up a few for a kitty rescue organization to sell at one of it's fundraisers – they would be an instant hit I'm sure!
They also make excellent use of your stash if you knit them in stashbusting stripes!!
Special thanks to Sara Elizabeth Kellner for sharing her sweet, sweet kitty pattern with us!
To download a copy of The Knit Parlor Cat pattern, please click here.
Be Well Friends!
Laura & Bruce