Knit your way to Rose City!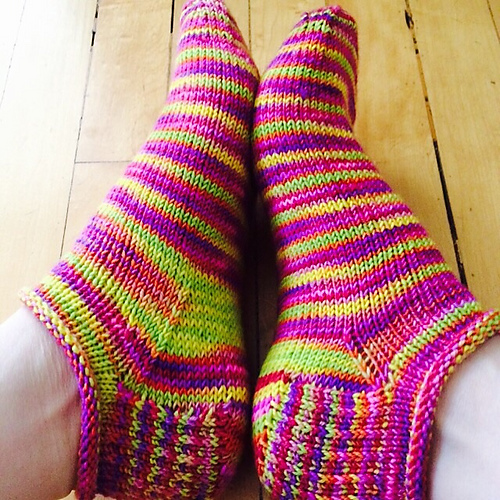 |
If you have ever thought about knit socks, but were hesitant to try them, this shorty Rose City Rollers ankle sock pattern is the thing for you!
They are not full socks, so they aren't quite as intimidating to knit, and they require a lot less commitment on your part!  However, ALWAYS cast on the second sock right away as soon as you finish the first one, so you don't fall prey to "second sock syndrome"!
It's a perfect season for ankle socks, and there are many different eclectic and wild sock yarn colorways that you could show off to their best advantage, or you could make them as a stash buster to knock down a bit of your stash, by using plain sock yarn in different colors to create the stripes.  I suppose you could always knit them in a single color too, but where is the fun in that I ask you??  I personally get a kick out of being super conservatively dressed for certain occasions, but let my inner bohemian shine by rockin' a pair of crazy colorful, marvelously stripey socks underneath!
These are quick to make, so that you can make batches of them as gifts for the holidays too!
Special thanks to Mara Catherine Byner and Ravelry for sharing this pattern with us.
To download this quick knit sock pattern, please click here.
**For those of you who are new to the site, or even our long term members, if you could please click on a few of the Google Ads on The Spinner's Husband website, it would go a really long way in helping us to keep this site free!  We thank you in advance for your help with this!
Be Well Friends!
Laura & Bruce