Knit these Free Tea Toters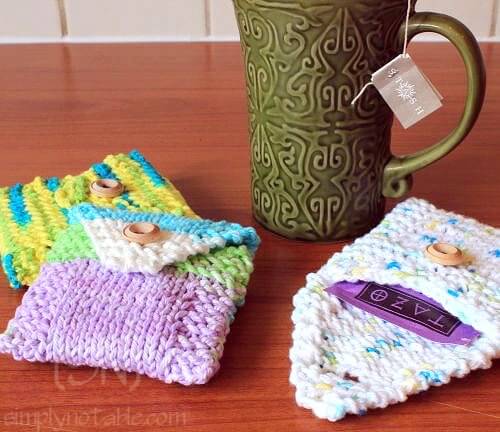 |
Take your tea on the road with you with these cute and practical little Free Knit Tea Toters!
If you know someone who likes to take their specialty tea bags with them for convenience when they are out and about, this would be the perfect little giftie to knit for them, either for a last minute Christmas gift, or an "I was just thinking about you" gift!  You can even add a couple little tea bags to the Tea Tote for an even more special surprise!
I could also see these being made up for coworkers, or as a fantastic stocking stuffer for the grown ups on your list!
They are the perfect size to hold even the larger tea bags such as Tazo or Numi, and keep the bags safe and sound and swaddled in a soft cotton or wool cover to eliminate punctures and rips in the delicate bags!
They are perfect for using up any cotton leftovers in your stash, or any type of worsted weight yarn will work well too!  I just love stash buster projects!  Give all those little spare bits of yarn that are languishing in a closet or tote a real purpose!
Special thanks to Julie Tarsha at Simply Notable Blog for this Free Knit Tea Toter pattern!
To get started on making your own little knit Tea Toters today, please click here.
Be Well Friends!
Laura & Bruce