Free Knit Pattern: The Slithering Scarf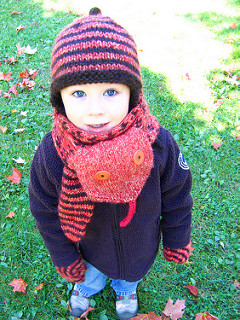 |
If you have a youngster in your life, chances are that they will love this knit project and think that you are the "coolest" Mama, Granny, Nana, Auntie or whatever they refer to you as (to your face – hee hee!)  Most younger kids love, love, love creepy crawly, slimy, icky critters, including snakes!  I'm not sure which they love most – the creepy crawly itself or the gross factor which causes adults to shudder and cringe!
Why not knit them a warm scarf that they will be excited to wear, because it is literally wrapping a knit snake around your neck!  (An inanimate, friendly, knitted snake of course!)
This is a really cute knit snake scarf pattern, and your young'un will be the hit of the playground and the envy of all their friends when they show up at some function or another, with a "snake" wrapped around their neck!
You can use almost any yarn for the body of the snake, variegated, ombre, hand-dyed, or even mix and match the colors for your/their favorite football team!
The size of the snake scarf is approximately 140cm long and 10cm wide along patterned length. (ie: head is slightly wider, tail is thinner).
Special thanks to Sarah Bradberry for sharing this free Super Slippery Snake Scarf knit pattern with us!
You can access this knit pattern at your leisure, by clicking here!
Be Well Friends!
Laura & Bruce
---