Knit Yourself a New Little Buddy! Free Pattern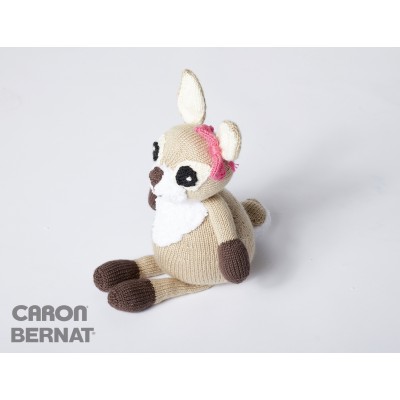 |
There are no words to describe how cute this little knit gal is – she is just "fawn-tastic"!!  She will light up the eyes of any child who is fortunate enough to get her for a gift, and melt the heart of any adult or senior that gets to have her in their lives.  They will become "fawn-d" of her quite quickly!
She is 21″ and is knit in Caron Super Soft or a similar yarn.  You could technically even use a thicker weight shorter thread eyelash yarn to give her the "fuzz factor", making her even more snuggly if you can imagine!
She is one of my favorite kind of projects – a real stashbuster, and can use up lots of odds and ends from your leftover yarn.  She seems to be the perfect weekend project to plug away at in between housekeeping chores and errands!
She is coming to us today, because I asked my son what we should post for knitting today, and he went off with this phone and found her, and we both loved her, so here she is!
Extra special thanks to Dalton (my son) for finding the pattern, and special thanks to Caron Yarns and Yarnspirations for sharing this free knit pattern with us.
To access the Dotty the Fawn knit pattern, please click here.
Be Well Friends!
Laura & Bruce