Knit socks with confidence! Free Knit Seamed Sock Pattern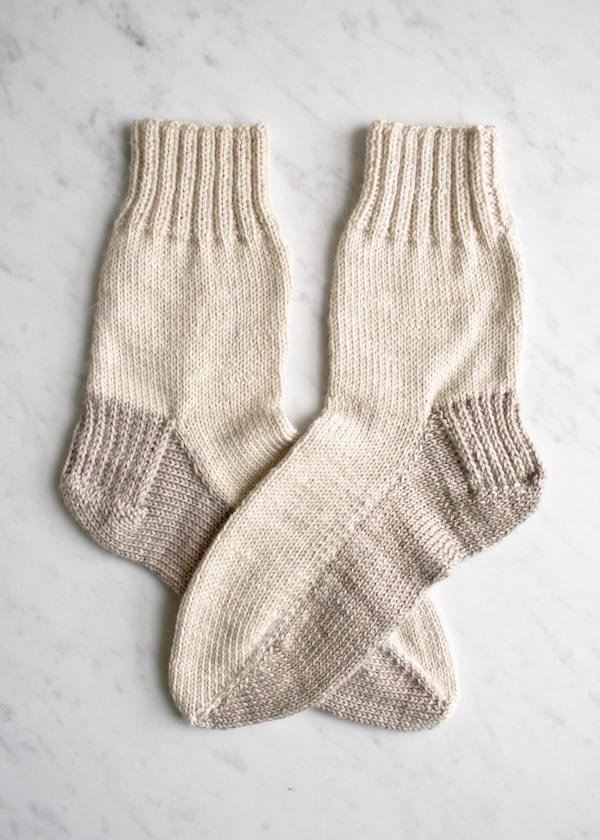 |
Do you love the look of hand knit socks, but dread the thought of using dpn's (double pointed needles)?  Dread no more, because the lovely and always inspiring Purl Soho has provided us with a Seamed Sock Pattern that you can knit comfortably with 2 needles!
This knit Seamed Sock Pattern gives you clear step by step instructions on how to knit a pair of seamed socks, and it also gives you a gorgeously photographed tutorial of the step by step too!
The trick to this seamed sock pattern is using the mattress stitch to sew them together, as it creates a stretchy seam which blends perfectly with the socks other stitches and makes the seam nice and fluid for movement.
These are also the perfect socks for a stash buster project that you can strip, or colorblock to your heart's content!  You can do the heels and toes in the same color as the sock, or use oddments of yarn from your stash to make a uniquely you look!
Special thanks to Purl Soho for this fantastic Free 2 Needle Seamed Socks Pattern!
To take a look at the photos and pattern for these simple knit socks, please click here.
Be Well Friends and Happy Holidays to You and Yours!
Bruce & Laura
**As previously mentioned we could really use your help, and would appreciate it if you could click on some of the ad links on our Spinner's Husband Blog page, as this is what enables us to continue bringing you extra special and free knit patterns each day!  We also encourage you to look at the Amazon Ads on the side of the page to check out our listings for additional crafting supplies.  Thank you so much in advance for any assistance you can give us in this regard!