Knit Yourself a Lovely Top with this Free Knitting Pattern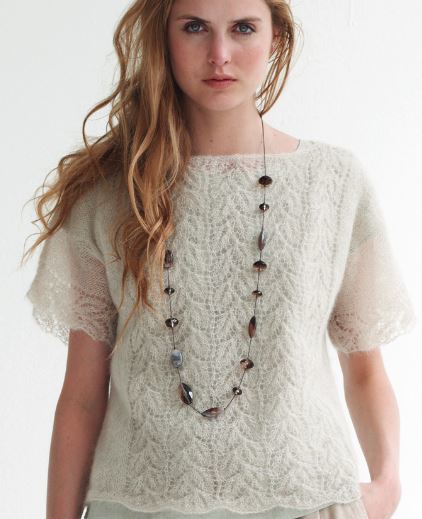 |
Knit summer clothing just screams for lace – those tiny little decorative holes created in knit or crocheted fabric that let the air or breeze flow in and all around you keeping you as cool as a cucumber.
I asked my "guest writer", my son Dalton (20), last night, to search for a nice lace knit sweater that we could bring to you today, and asked him to write a small caption about it.  Let's see how he did shall we?
From Dalton:
Top off your summer wardrobe with this wonderful lace summer top. Put this at the top of your to do list and tip the scales of fashion.
His followup to me was "*i put the word top in there alot cause its a summer top, get it? Im punny!"  AND he's very helpful, and loving, and I'm eternally grateful that I have him in my life!!!!
Let's see what else I can tell you about the top – it is meant for intermediate knitters, has short sleeves and would look great under either a blazer, or worn with your favorite pair of jeans.  It can be made with any type of kidsilk yarn for a soft and fuzzy look, or a nice linen, pima cotton or bamboo yarn for a crisp and cool look and texture, and breathability.
To access this fabulous knit lace top pattern, please click the link below:
https://www.allfreeknitting.com/Knit-Tops/A-Crush-on-Lace-Knit-Top
Special Thanks to All Free Knitting . com for providing us with this free pattern.
Special thanks also to Dalton, for sharing this post with us.  Let me know if you would like to hear more from him in the future!
Be Well Friends!
Laura & Bruce