Knit Yourself a Little Bliss! Free Knit Shrug Pattern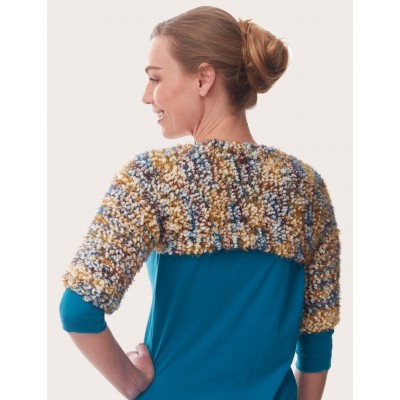 |
Take a rest from daily stress and knit this easy and wonderful Blissful Shrug knit pattern.  And it's FREE!!!  That's my favorite kind!
This is an adorable little knit shrug which has multiple opportunities for wear.  It can be worn over a t-shirt and your favourite jeans for  a laid back casual look, or can be knit using a high quality, super soft yarn and wear it over a dress for Sunday Service or other more formal affair, or as a flirty little accessory over a strapless dress. or to thow on when there is a chill in the air, to help keep you warm and comfortable.  It is all determined by the yarn choice you make, as is the level of warmth provided, based on your choice of yarns.
However, these knit shrugs are so quick and easy to make, you will likely want to make a few of them in different colors to matchy match your wardrobe and offer you more creative styling options.
Depending on your knitting skills and speed, you could theoretically buy the yarn on Friday night, and be finished the shrug by end of day Sunday if you are off for the weekend, or a different 2-3 day stretch of time.  Failing that, it can most definitely be finished by working on it a bit a night after work when kids are fed, and you can now go sit in front of the TV for some mindless entertainment!   At work, you can wear it as a "shield of invincibility!!  Any way you see fit to accomplish the knitting, I know the end result will be amazing!  Someday when my "list" empties a little, I would like to give it a try myself too!
Special thanks to Yarnspirations for sharing this cute and sassy Blissful Shrug!
You can access this free Blissful Shrug knitting pattern from Yarnspirations by clicking here.