Knit Last Minute Hats – Free Pattern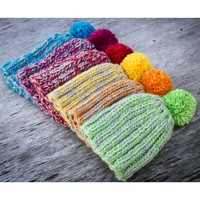 |
I know this is getting close to the time when everyone begins scrambling for those last minute gift ideas, and burning the midnight oil up knitting and crocheting all night to knit and get those last few special gifties finished in advance of the big day!
With this easy and nice looking free knit hat pattern from Valley Yarns, you are covered!  You can usually never go wrong with a hat!  And the fact that you made it yourself makes it even more welcome and special!
Special thanks to Valley Yarns for this Free Last Minute Hat knitting pattern.
To download and use this pattern, please click here.
Be Well Friends!
Laura & Bruce