Knit a Wrap for Someone you Love With This Free Knit Pattern!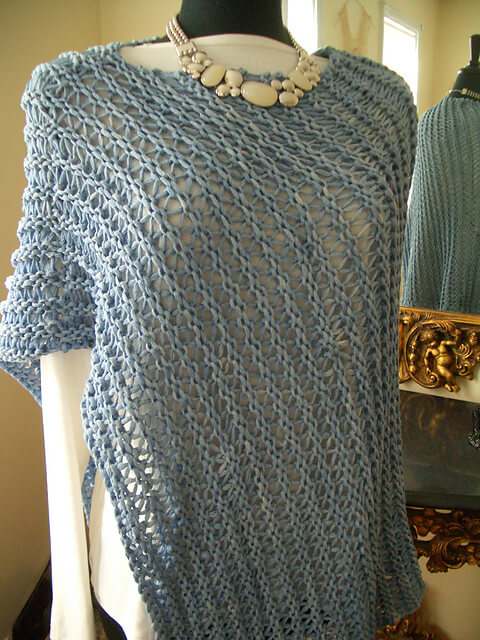 |
The majority of us are up to our ears in wrapping right now, but if you are still looking for a last minute gift for someone in your life, this Free Knit Ridged Wrap Pattern may be just what you are looking for!
This gorgeous openwork wrap is knit using 8 mm. needles and bulky yarn, so you can be assured that it is a fairly quick knit, and depending on the amount of time you have to work on it, should easily be completed before Christmas arrives.
I love the color that it is made from, although it is a timeless classic that would look great in almost any color!  You could even add stripes using colors in bulky weight yarn from your stash, or an ombre transition piece, or color blocks to make it your own or to tailor it to the person it is intended for.  The sky is the limit!
I also heard about a creative knitting exercise which suggests that you cast on for a scarf or wrap, and then knit several rows each day which reflect the color of the sky that particular day to have a uniquely one of a kind article for gifting or wearing yourself!
Special Thanks to Andra Asars for creating this lovely knit pattern.
To download this Free knit Ridged Wrap pattern from Ravelry, please click right here.
Be Well Friends!
Laura & Bruce
*Also, if you could be so inclined, we would really appreciate it if you could click on some of the ads on the blog page that may be of interest to you, as that is where our revenue comes from in order to continue providing you with these free patterns!  Thanks so much!