Knit a Split – Free pattern for Split Back Tank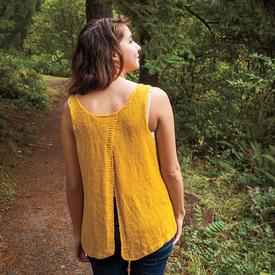 |
While we are still in the throes of winter, temperatures are slowly warming up, causing us to think of sunnier and warmer days ahead.  This easy yet adorable knit Split Back Tank top in it's gorgeous shade of yellow, is just the thing to jump start Spring in your mind!
It is knit in a manner which allows it to be loose and flowing, and not sticking to you if you perspire (or should I say "become dewy" on those hot summer days that are hopefully just around the corner from Spring!
Special thanks to Knitpicks for sharing this free Split Back Tank pattern with us
To get a jump start on Summer this year, treat yourself to making this easy knit tank top by clicking here.
Be Well Friends!
Laura & Bruce