Knit this Easy "Lady in Red" Scarf!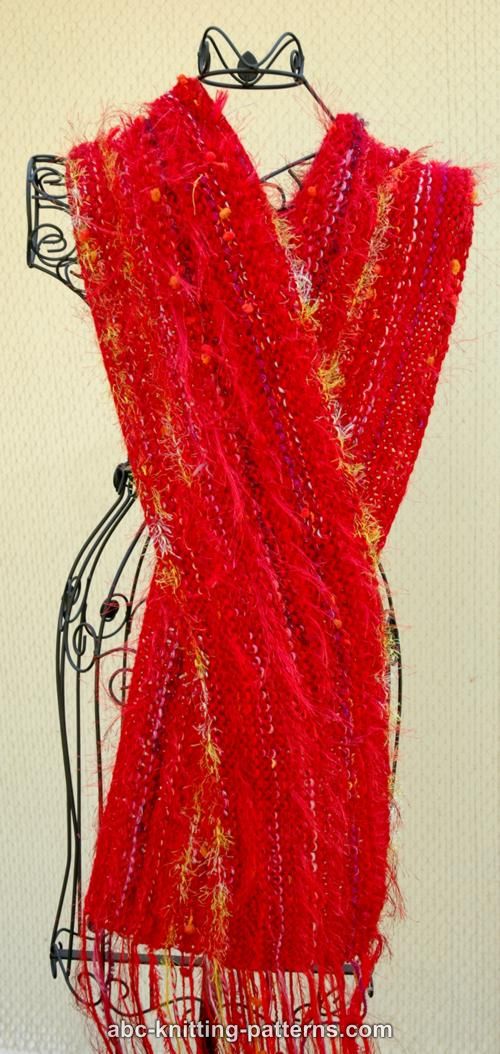 |
I'm sorry that I wasn't back yesterday, however life sometimes has other plans than we do!  I wanted to do my post, and then sit and knit, but alas, it was not meant to be!
Almost everyone loves themselves a good knit scarf!  Now you can kick it up a notch by making this fancy "Lady in Red" scarf and dazzle your friends and family with your talents!
This gorgeous knit scarf is made longways, by casting on about 150 stitches – although you could make it longer or shorter depending on your preference.  If you wish to work more rows than called for, you could turn it into a bright and beautiful accent shawl too!
I'm sure most of you have tried some of the fancier yarns beyond just straight acrylic yarn, and remnants of these fancier yarns are what is required to give the scarf it's unique and original cachet!
Bust out those little balls of fancy yarn, even begging or borrowing from friends if need be – find a gorgeous red, or purple or whichever color is your favorite for the main portions of the scarf, and just go for it! (can anybody say stash buster?!)  Other than some basic guidelines, there are no hard and fast rules to speak of, and at the end of the project, you will have a stunning scarf to show off all over town this fall/winter season!
Special thanks to ABC Knitting Patterns for sharing this jaw-dropping scarf with us!
To download the printable page for this knit scarf, please click here.
Don't just MAKE The Lady in Red scarf!  BE the Lady in Red!!
While you're at it, knit some for your friends!  They will love it too!  They would also make incredible Christmas or Birthday gifts!
Be Well Friends!
Laura & Bruce