Knit this Free Sparkle Wrap Pattern!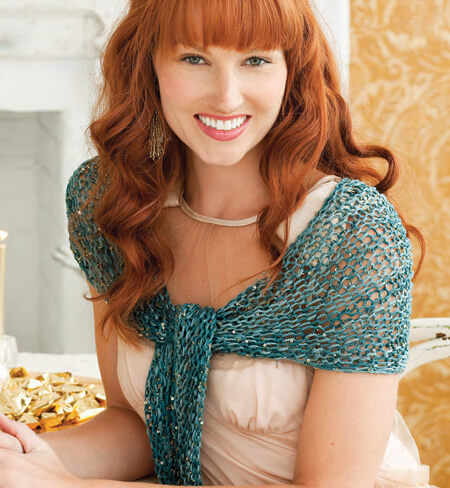 |
'Tis the season of Fa La La La La and all that, parties and get togethers abound as all friends and family gather to celebrate the past year and to bolster connections for the New Year.  Fancy dress is common for the holidays, and nothing says fancy quite like a lovely, delicate knit wrap!
This free Sparkle Wrap pattern is a very nice quick knit and the results can be breathtaking!  It is a fine mesh lace, easy to make, and a joy to behold!  I encourage you to take a little "me time" now and again over the holiday rush, to breathe, partake in some knitting "therapy" with a hot cup of tea or stronger (if you are so inclined), and knit this gorgeous wrap for the holidays.  If you don't get it done by Christmas, no worries!  You can target wearing it New Year's Eve instead!
If you do happen get it done in time for Christmas, you may wish to consider giving that one as a gift and knit another for yourself after Christmas when your time is your own again!
It will also be a wonderful chill-chaser in the spring and summer when it's too warm for a sweater, but too cool for bare shoulders and arms!  Truly the gift that keeps on giving year 'round!
Special thanks to Knit Simple Magazine for sharing this free knit pattern with us!
To view and download the pattern, please click here.
Be Well Friends!
Laura & Bruce