Knit a Two-fer! Free Pattern!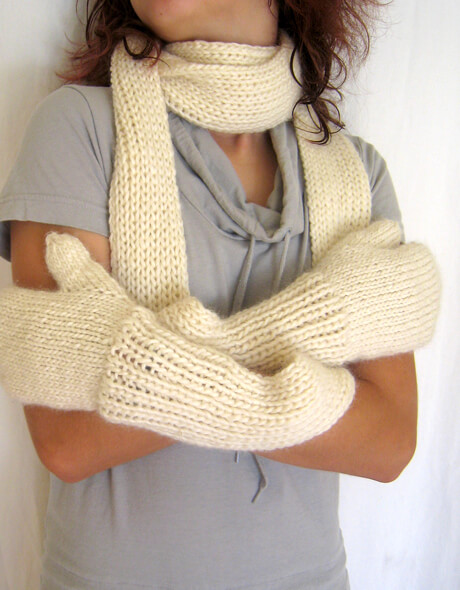 |
If you have already raised one, or are in the throes of raising one, you will know first hand what strange little creatures teenagers can be.  It's not "cool" to be warm, can't wear this, won't wear that, challenges and heated debates abound.  I understand they are trying on various hats (figuratively speaking) in order to find their own voice in the world, but it certainly can leave a parent with their head spinning, and much wailing and moaning and gnashing of teeth by all!
One battle almost every parent of a teenager faces is the great "knit scarves-mitts-hat" debate.  Junior won't wear them because they are not hip, or if you do manage to convince… errrr… coerce him or her into wearing one or more of the above-mentioned garments, they become lost in record time.  AAARGH!!
This very clever and innovative two for one one knit accessory gives peace of mind for all.  It is very most definitely cool, even in it's warmth!  Classmates will be clamoring for one of their own because of the "cool factor", and Mama Bear gets the satisfaction of knowing that Baby Bear will be toasty warm.
It also cuts down on the risk of being lost, because it combines two critical knit accessories into one.  It's a scarf, it's mitts, and the mitts are knit onto the ends of the scarf so that no mittens will be lost.  Unless of course they lose the whole scarf!
Even if you don't have a teenager around, this pattern makes a great gift to anyone in need of some stylish warmth, would be great to make for yourself in a luxury fiber, or make several to donate to charity to help keep those less fortunate than ourselves warm this winter.
Special thanks to Julie Wiesenberger of CocoKnits.com blog for sharing this free knit pattern with us all to aid in the quest for warm teenagers everywhere!
To view and download this free knit "Mittenscarf" pattern, please click here.
Be Well and Take Courage Friends!
Laura & Bruce
**If you enjoy coming to our site to view fun and free patterns, we would like to request that you click on several, or all of the Google Ads on The Spinner's Husband Blog page to support the site in continuing to bring you daily patterns.  While you are there, you can also check out the Amazon Ads for knitters and crocheters and stock up on any needed or wanted crafting supplies.  We thank you!!