Knit a Quick Stashbuster Stylin' Scarf! Free Pattern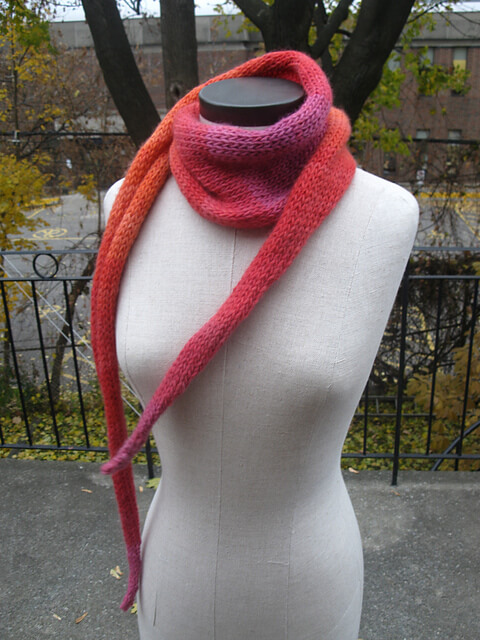 |
This little knit scarf's name is "Pip", as in Pipsqueak, I'm assuming.  Or it could stand for Pretty Impressive/Incredible Project/Pattern!  What a perfect name that either one is!  I am quite taken by this little scarfie!
Pip is made with one ball of worsted weight yarn, and would be the perfect next project for a beginning knitter, or a "zone out" easy to knit project for a more experienced knitter feeling low in concentration power, but who still wants the soothing and transcendent  experience of knitting.
As I mentioned, this is a perfectly quick little stashbuster, and can use up some of those spare balls of worsted that you have in your stash waiting to be brought to life in a project.  Knit them as last minute gifts, make them for all your friends!  The options are endless, as are the colors and color combinations that you can make it in.  Go nuts!  Have fun!!
You can also destash a little more worsted by whipping some up for charity!  Who doesn't love a nice warm scarf?  And it's stylish to boot!  Carry a project bag with one in it wherever your days may take you and squeeze in a few rows in any free time you may find.
That's what knitting is really all about isn't it?  You feel good, the intended recipient feels good….great return and rewards for the effort put into the craft!
Special thanks to Mona Smith of Espace Tricot for sharing this free knit scarf/shawl pattern with us.
To download your copy of the knit scarf known as "Pip", please click here.
Be Well Friends!
Laura & Bruce