Knit this Rainbow Stash Buster Cushion! Free Pattern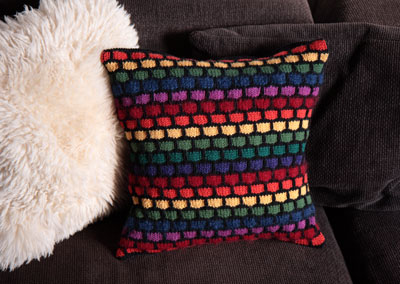 |
Whenever I see or hear about rainbows now, I immediately think of my 7 year old Granddaughter.  When you ask her what her favorite color is, her vibrant little self proclaims that it's "Rainbow".  This knit cushion would be perfect for her bedroom, or on the couch in the living room to inject a little color into the decor.  You can never go wrong with a rainbow I'm told!
I love the fact that the base stitches are done in black, because that highlights the vibrant colors so nicely, but the author agrees that it would work well in other shades as well, or even in a lighter base with more muted colors in the rows, depending on what colors of yarn you have in your stash at the time.  You can even make it in strictly reds, whites and greens to put on the couch over the holidays to add a festive touch to your room!  I will eventually try it in all shades because I need some good stash buster projects, but over all, I think I will prefer the rainbow outlined in black – it just screams joy!
It also screams "major stash buster", as it can quickly eat up a number of remnants in your wool stash from previous projects!
Special thanks to Itsastitchup Blog for sharing this stash busting rainbow cushion/pillow pattern with us.
What are your favorite kind of stash buster project(s)?
To copy this free knit stash buster rainbow cushion pattern, please click here.
Be Well Friends!
Laura & Bruce