Have you knit with Bamboo yet? [Free Knit Sweater Pattern]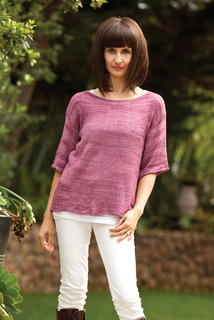 |
I do believe that I have fallen deeply in love with Bamboo fiber!  It is silky, sleek and soft, and provides warming or cooling knit or crocheted fabric depending on the need, and also has numerous other benefits including antibacterial properties.
Add that to a classic Free Knit Sweater Pattern in Bamboo, and you have today's treat!  This is an easy wear, easy knit style, and a must have in any wardrobe.  It can be dressed up or down depending on the accessories you choose, and you may find yourself knitting one in every color!  It can also be knit in a nice brushed cotton or linen or a cotton/linen blend if you prefer.
The pattern appears to have a looser roll-type neckline, but if you would prefer, you could pick up and knit several rows of K1P1 ribbing around the neckline for a more "finished" look.
I know that my darling daughter is eyeballing me as I write this, and I just know she's dreaming of raiding my bamboo stash to see what colors I can make it in for her!  Yikes!!  With 3 kids and a lovely granddaughter, my "to knit" and "to crochet" list gets longer every day!  Can you relate?
Special thanks to Nomvula Knitters and BeSweetYarn for this lovely Free Pattern!
Download this Free Bamboo Knit Sweater pattern from Ravelry by clicking here.
Be Well Friends!
Laura & Bruce