Knit up a Work Sock Hat for the Winter!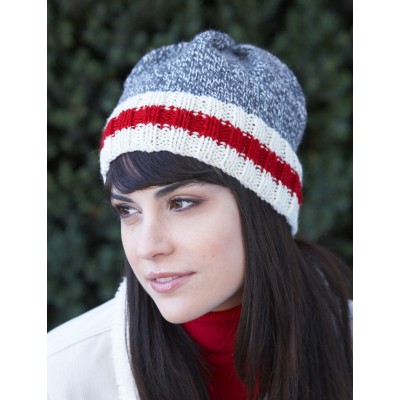 |
This easy knit work sock hat is great for beating the coming winter's chills, especially when knit in a wool or wool blend yarn!
For some reason, I have always loved the classic look of hand knit work socks and work sock similar patterns.  So yes, that means I have also been a fan of the work sock monkey!  If anyone is interested in that pattern, please let me know.  However, getting back to the pattern at hand, this is a good hat to knit if you are a moderately experienced or recent beginner, and want to practice color changes while knitting.  There's nothing too technical involved, and the look makes the couple extra steps well worth it!  I encourage you to give it a try!
Come to think of it, a Work Sock Cowl or scarf would be cute too, to create a matching set, and would not be too difficult to make up to knit.  You could also make up the sets for family and friends on your Christmas List as a gift!  They are guaranteed to love it!
Special thanks to Yarnspiratons and Paton's Yarn for sharing this pattern with us!
To download the easy knit work sock hat pattern, please click here.
**If you would be so kind, could you please remember to click a couple Google links while you are visiting the Spinner's Husband website?  That will go a long way in helping us to keep the content fresh and free each day!  We truly appreciate the assistance!
Be Well Friends!
Laura & Bruce