Knit Knockers Anyone? Free Pattern!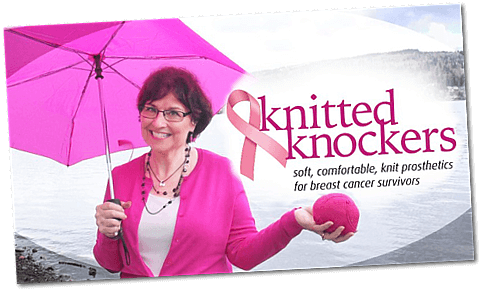 |
I'd like to draw your attention today to a very worthwhile knitting/crocheting project which provides soft, light, knit breast prosthesis for all women around the world who are suffering from the effects of breast cancer, be it via mastectomy, lumpectomy and any other type of breast alteration/surgery due to cancer.
A breast cancer survivor who had been told she would not be able to wear a prosthesis over her fresh mastectomy scar for at least three months, was devastated.  She did not know how she could go out in public, or back to work or any other number daily situations when she felt so "different".  A paper describing a knitted prosthesis had been brought to her attention when she was visiting her Dr., and she took a copy and enlisted the help of a knitting friend, and the friend knit her a pair made for to try.
She states that they were the best thing she had ever found, and established a charity called "Knitted Knockers", and has recruited an army of volunteers worldwide to give of their time, talent and materials to make these knitted prosthesis which are provided free of charge for anyone in need who requests one.  These knitted knockers fit right into your normal bra, and even out your breasts appearance in a comfortable, light and cool, not sweaty manner.
You can learn how to make these knit prosthesis by clicking here, which will take you to the KnittedKnockers.org website where you can download the free of charge knit and crochet patterns, watch helpful "how to" videos, locate chapters of the organization that you can send your finished knockers to for distribution to women in need who request one(or two)
Just think, if we could all commit to making two (2) or more a month each, we could significantly alter the lives and self-esteem of women everywhere who have struggled, or are currently struggling with this dreaded disease, and give them something to smile about!   Please let us know in the comments field if this is something that you would be willing to do or could see yourself making, and keep us posted on your progress with photos if possible!
Be Well Friends
Laura & Bruce
**We could also really use your help in supporting our site to enable us to continue bringing you free and interesting patterns every day.  If you could click on some of the Google Ads on the Spinner's Husband Blog page we would really appreciate it.  While there, please take a look at the Amazon Ads on the right hand side of the page to stock up on any craft supplies or anything else that you may be needing!