Crochet a Crocodile Stitch Shawl – Free Video Tutorial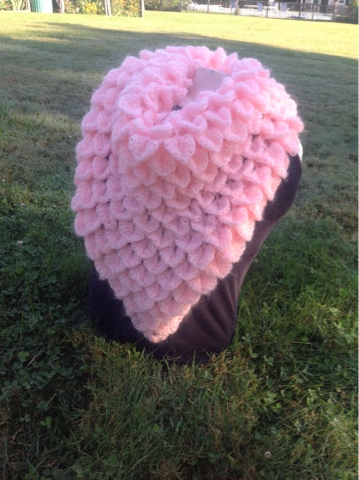 |
I don't know if you have seen the crochet crocodile stitch yet, but once you do, you won't likely forget it's appearance!  It looks like the scales on a crocodile or an alligator, only made out of soft, squish-ably delicious fiber instead of something hard and…well….scaly!
I have a friend who is a total dragon fanatic, and was so long before the days of our recent "Dragon Culture" such as the Game of Thrones series, Eragon and the likes and this crochet pattern could double for dragon scales as well, so I think this shawl is just the thing to make for my dragon-loving friend when I can pencil the project in and find the right yarn.  I may spin and dye some just for this project.  My queue just seems to keep getting longer, and I'm sure you can all relate!  There are just so many delicious projects and fibers to "play" with, and just so darn little time in a day to do it!
This video tutorial for the crocodile stitch shawl is a good one, with clear, visible, easy to follow instructions.  I love her style of teaching, and if she isn't quite sure of something, she learns along with us, and her Australian accent is charming.
Special thanks to Clare of BobWilson123 for sharing all of her free crochet video tutorials with us!
Enjoy the video tutorial!
Be Well Friends!
Laura & Bruce