Knit These Adorable Baby Overalls for Fall!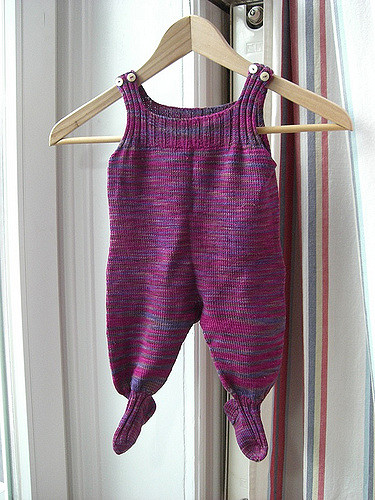 |
While most of us in the Western Hemisphere are enjoying some super summer days, unfortunately, we only have roughly a month and a bit left to go before Fall rolls in.  Time to start choosing or making your knit patterns for the new season!
These sweet knit baby overalls will be just the thing for a little one on your "To Do" list, because they even have feet to help keeping baby warm, and eliminating the need for them to wear socks.  Any of you that have had babies will know what a chore it is to keep socks on a baby with all the kicking and squirming about that they do!
As always, I'm on the lookout for stash busting products for all of us, to help use up those odds and ends of beautiful yarn.  You can make these overalls in one colorway, OR you can use up your leftover yarn and make them stripey!!!
This would also make an excellent gift for an expecting Mom, or a Mom with a little one at home!  It would be very much appreciated.
Special thanks to Martina Behm for sharing this lovely knit pattern with us today!
To download your copy of the Pepitas (baby knit footie overalls), please click here.
If you have any items you would like to see on the blog, please leave a comment on the facebook page/post, and we'll do our best to include them all in upcoming posts!
Be Well Friends!
Laura & Bruce
P.S.  As it is a long weekend in Canada, I will be taking Saturday, Sunday and Monday off posting to spend some time with the family and recharge my batteries.  I will be back at the helm on Tuesday, so never fear!!  I hope you and yours have a great weekend as well!!