Knit these Precious Baby Bunnies! Free Pattern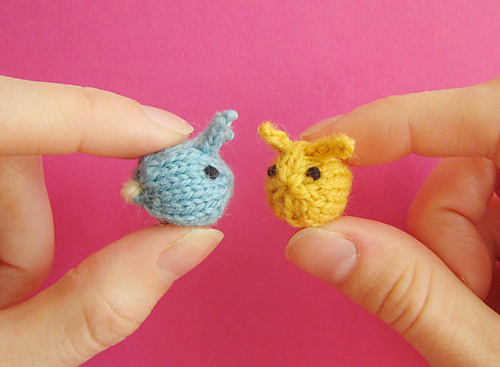 |
Anyone who has had children or has been around children for any length of time, know the fascination and love that they have for small inanimate objects.  I'm talking teeny tiny stuffies, knit or crocheted figurines, Lego men, Fisher Price people etc.  My youngest son called his collection his "guys", and he would play with them by the hour!
Today's knit pattern is for one of those teeny tiny creatures, and with Easter approaching, very good to make up in abundance before the holiday is upon us.   These teeny bunnies are so adorable that my heart skips a beat when I see them!
They are also phenomenal for using up those scraps of yarn from previous projects that we can't bear to throw out, but are too small to be used successfully in almost anything else.  I always love a good stashbuster project!  And with the outcome this adorable, who can resist?
Special thanks to Anna Hrachovek and Mochi Mochi Land for providing us with the free pattern.
To  access the pattern for these adorable knit bunnies, please click here.
Be Well Friends
Laura & Bruce