Learn this Lacy Shells Crochet Stitch – Free Instructions!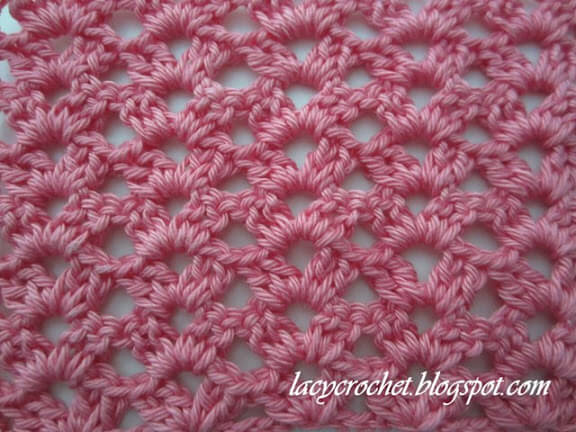 |
If you're anything like me, I want to know everything I can absorb about the crafts that I do – different stitches, different ways of making shapes, different gauges and so on.  I came across this crochet stitch pattern this morning, and decided that you may like to see and learn it too!
It will make a great lacy textured crochet blanket, in a worsted or aran weight for an adult/couch throw, and in DK or Baby yarn and a smaller hook for a baby blanket!  It can be used for a fancy scarf or cowl, or really anything that your imagination can come up with!
The best part about this stitch is that it looks really complex to look at the fabric it creates, but in reality, it is made up of 2 rows, a set up row, and then a second row, and you repeat the second row until the blanket or creation is as large as you want it, and then you can crochet a border around the item if wanted, and that's it, you're done!
Special thanks to Olga Poltava of LacyCrochet.blogspot.ca for sharing this free crochet stitch pattern with us!
You can find the crochet Easy Shells stitch pattern by clicking here.
Be Well Friends!
Laura & Bruce
**If you enjoy our site and the free patterns we bring to you daily, we would really appreciate it if you could click on one or more of the Google Ads on The Spinner's Husband Blog page while you are there.  It costs you nothing to click, but helps support the site in bringing you fresh content every day!   You can also check out the Amazon Ads and stock up on any crafting supplies that you may want/need that you see on sale!  We thank you!