Cranky Angel [Free Crochet Pattern]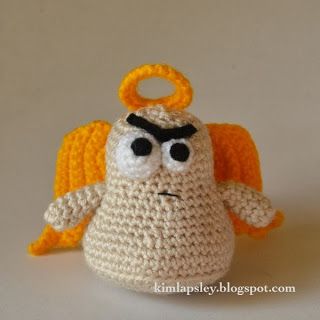 |
Holiday stress kicked in yet?  If so, sit down with some yarn and soothe yourself by making this Free Cranky Crochet Angel Pattern to keep you company!
This little crochet Cranky Angel is one of the cutest things I have seen in a long time!  I just love love love his grumpy little face!
I think he would make an awesome ornament for your Christmas tree, a wee decoration for your mantel or side table!   He would also make a adorable keychain if you were to attach a keychain clip or carabiner to his halo, or add another small crochet loop into which to fasten the clip.  Can anybody say "stocking stuffer"?  You could also crochet a napkin sized loop on his back and use him and his friends as holiday napkin holders for your holiday dinners.
He works up quickly, and is a great reminder that in life there are both good and bad times, but we need to be thankful for all the experiences we have had and are having, as they are all a part of what makes us who we are, and have become in the tapestry of our lives!
Another selling point for this little guy is the healing, calming effect that yarn-work has on us, both body and soul, so it is a good way to "destress" and have some fun making what I think will be the hit of the season!!  You could also call up some crocheting friends and have a "Cranky Angel Bee" where you can all work on them together.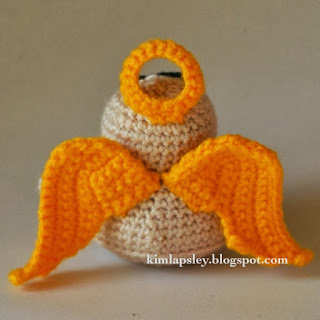 Serve some snacks and drinks and make an evening or afternoon of it!
You and your friends can also bring any appropriate colors of leftover yarn from their stash, so a "destashing" bonus, and maybe try using some glitter yarn for his wings and halo, or rub the wings and halo well with a glue stick and sprinkle some loose glitter onto him when he has been completed and is ready to fly solo.  Be sure to shake off any loose glitter before decorating with him, or you'll start finding bits of glitter everywhere!
Special Thanks to Kim Lapsley from KimLapsley.blogspot.com.au for this free crochet pattern.
Embrace your inner "Cranky Angel", by clicking this Free Crochet Cranky Angel Pattern and make one or two up in time for the Holiday Season!!
Be Well Friends
Laura & Bruce