Crochet Granny Square Slippers! Free n' Quick Pattern!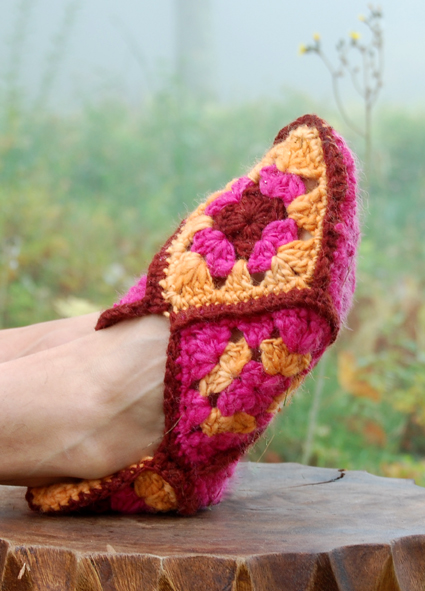 |
The one thing that bites about this time of year is how cold and damp the air can be, leading to shivering toes everywhere!  Now you can crochet up a pair of slippers for yourself or to have on hand for houseguests, in no time flat!
Pretty much everyone will know how or be able to learn how to make a Granny Square very quickly, and can you believe that you only have to crochet six (6) of them to have a full slipper!  Making 12 Granny Squares will go really fast, and then all that is left to do is to crochet them together.
Sizing them is really easy too, just by making an extra row or using a larger hook and yarn weight, you can convert them to slippers for the man/men in your life too.
They are unusual looking, and make for a very interesting gift, so why not sit for a few minutes and whip out a pair of them for Christmas!
It's a perfect stash buster, and will help you to pare down your stash while creating beautiful one of a kind slippers for everyone you love!
They would also be great if they were made up for charity such as Senior's Homes, hospital chronic care wards or hospice and palliative care patients to let them know that someone in this world cares for them and is thinking about them.
The sky is the limit with this free, quick and easy Granny Square Slipper pattern!  As always, Purl Soho also includes a step by step photo and written tutorial for you as well, to make the project even easier!  Special thanks to them for sharing this beautiful pattern and tutorial with us!
To enjoy this free crochet slipper pattern, please click here.
Be Well Friends, and Happy Holidays!
Laura & Bruce
**As previously mentioned we could really use your help, and would appreciate it if you could click on some of the ad links on our Spinner's Husband Blog page, as this is what enables us to continue bringing you extra special and free crochet patterns each day!  We also encourage you to look at the Amazon Ads on the side of the page to check out our listings for additional crafting supplies.  Thank you so much in advance for any assistance you can give us in this regard!