Free Crochet Pattern for Quick and Thick Cowl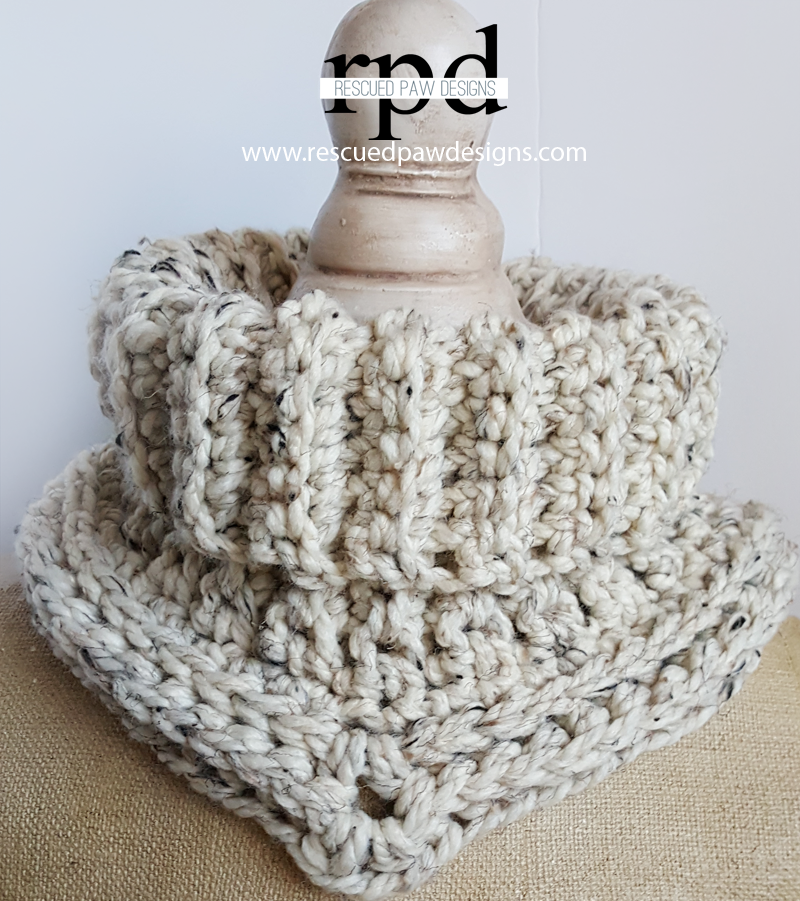 |
It is very cold here today which is unusual for our climate.  The cold weather has me dreaming of thick cozy cowls, and this free crochet pattern is exactly what the doctor ordered!
I hope you enjoy this free crochet cowl pattern as much as I do, as it is both simplistic and timelessly rustic in appearance, and warm, toasty and cozy in function.
The cowl stays quite close to the neck, trapping and keeping your own body heat in, so you do not feel the chill as much.  Krista Cagle from www.RescuedPawDesigns.com has done a beautiful job of it, and she even designed the whole cowl in just one night!  Special thanks to her for this pattern to share with all of you!
This is an easy, yet attractive and practical cowl, and would also be great for Christmas gifting or Charity crocheting.  I have just added it to my list of charitable items to crochet for this winter.  I will test one out on my Darling Daughter first, and get her feedback on how she likes it.  I personally cannot wear anything too close to my neck, but I'm pretty confident that she will love it!   I also absolutely adore the look of it!
I have a whole stash of Lion Brand Thick and Quick yarn in a variety of colors, that the hubby picked up for me at the end of the season last year, so time for me to put it to work!
To access the Free Crochet Pattern for this Cara Cowl, please visit on Krista's website by clicking here.  She also has numerous other patterns that you may want to browse while you are there also!  If you make it, please let us know what you think of it!
Be Well Friends!
Laura & Bruce