Crochet This Ingenious Elasticized Hair Band! Free Pattern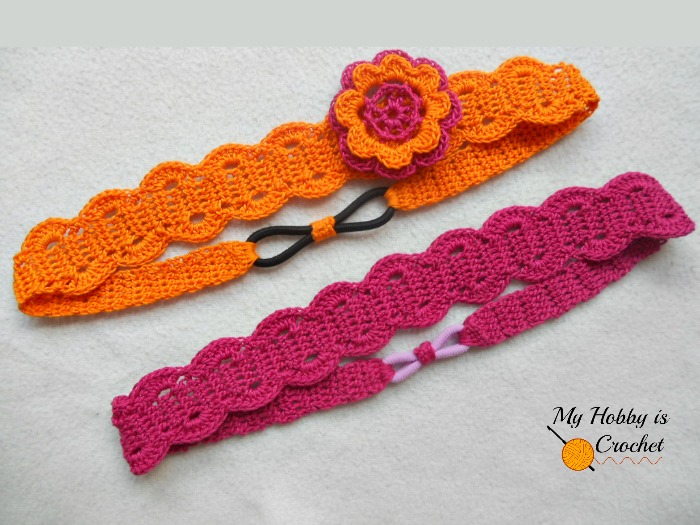 |
Unless you have really short hair, at some point or another, you are going to want to use a crochet head band to hold your hair back from your face when doing something that you have to have clear visibility for without peering through wisps of hair.
This crochet headband is an amazing design – so simple that I can't believe I haven't seen it before, but you can bet that now I will be incorporating it into alot of patterns, including easy fit hats for toddlers and preschoolers etc., to help them fit and stay on better.
This headband uses pretty basic crochet stitches begun on a regular coated hair elastic (to minimize hair pulling, as per a plain elastic)  You can make the pattern as simply or as swanky as you'd like, with buttons or ribbons or other added embellishments – and they are so easy and quick that you can make one in every color to coordinate with all of your outfits.  Make sure that you only use the fabric or thread covered elastics however, to eliminate any awkwardness or painful hair pulling!
They are a great crochet gift for a youngster's birthday to help her mother dress her up in a color coordinated outfit and accessories, and made in bigger sizes, they are great for adults too, if you ever just need to keep your hair out of your way or soothe a "bad hair day!"
Special thanks to Kinga of My Hobby Is Crochet Blog for sharing this crochet elasticized headband pattern with us.
To access the full crochet pattern and the free full color crochet tutorial, please be sure to click here.
Be Well Friends!
Laura & Bruce
**To keep our site able to bring you free tips and tricks and patterns daily, please consider clicking on some(or all) of the Google Ads on The Spinner's Husband Blog page. Clicking is free for you, and helps us a great deal!  We appreciate the assistance!!