Crochet this Adorable Free Bunny Pattern!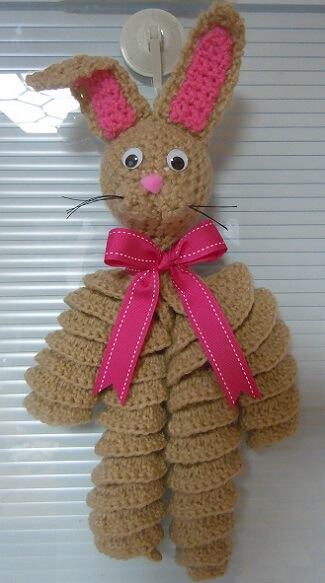 |
I know I might be jumping the gun, and that I'm a little early to be thinking of rabbits in the form of Easter Bunnies, but I found this free pattern and the little guy is just too cute not to share!  Children everywhere, and adults too, will fall in love with this precious crochet rabbit!
He resembles the crochet clowns that a large number of children had when I was young (eons ago!) that were lovingly made by their Grandmas or Aunties, and seen at Church bazaars and everywhere else it seemed.
One thing I would do differently with this guy in order to make him a truly child friendly Bun, would be to skip the googly eyes that appear to just be glued on, and replace them with true safety craft eyes so there is no choking hazard present.
The other thing that I would do differently is to use some polyfil/acrylic stuffing in his head as opposed to a styrofoam ball, because I would want him to be soft and squishy and super cuddly, and styrofoam is not known for having any "cuddly" properties!
He can be made in any number of yarns, and larger or smaller depending on the hook size you choose, so he is  great stash buster as well!  You can make a few in your spare time or as a nice, easy project between big ones, and you will be well ahead of the Easter game this year!
Special Thanks to Craft Elf for sharing this Free Crochet Easter Bunny pattern with us!
Please click here to access the crochet Easter Bunny pattern.
Be Well Friends!
Laura & Bruce
**Please help to support our site by clicking on the Google Ads on our Spinner's Husband Blog Pages, so that we can continue to bring you fun, free daily patterns!  You can also check the Amazon Ads to the right of the Spinner's Husband Blog page to purchase additional crafting supplies at terrific prices!