Crochet this Sumpuous Thick Cowl in a Jiffy!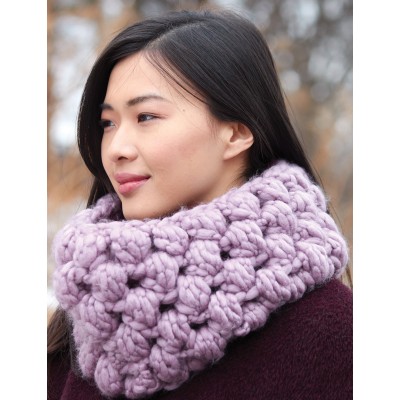 |
There is no better or cozier feeling than having some nice, thick, plush woollies to burrow into when the weather gets bad outside, and no matter what you do, there are chills everywhere.  This jiffy crochet, super thick cowl is most definitely one of those pieces that is good for some serious "burrowing"!!  The sample pink cowl in the pattern's pictures looks just like spun sugar!
This crochet sample is made using Patons Cobblestones yarn, but could also be achieved by using multiple strands of another yarn to give it the requisite thickness.  That would make
If you spin, with a wheel or even a drop spindle, you could try to make yourself enough bulky yarn to make this cowl also, giving it a double shot of "hand made special"!!  As an aside, I am working on a shawl right now, that is being designed by me as I go along, and is using yarn that I drop spindled and dyed into a gorgeous rainbow skein myself!  It feels really good to do something like that!  I hope the same experience for you!!  I may try to make the bulky yarn for myself as well, as my next challenge!
If you've been playing with the idea of adding another dimension to your crafty life, I highly recommend drop spindling.  It's not as tricky or scary as you might think, and it's a very good stress release as well!  And then there is also the sense of double satisfaction when you wear something that has been spun, dyed and crocheted or knit all by your own two hands!
Special thanks to Smitha Katti and Yarnspirations for sharing this crochet cowl pattern with us!
You can access the crochet pattern by clicking here, and downloading from  the Yarnspirations website.
Be Well and Be Warm Friends!
Laura & Bruce