Crochet This Super Quick Bulky Throw! Free Pattern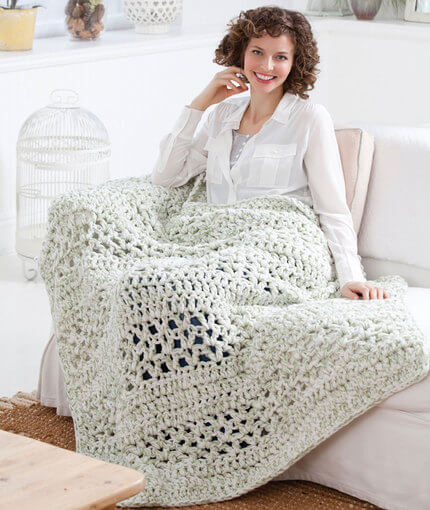 |
There has been so much snow and bad weather in other parts of the country and world, that I get cold just watching the weather reports!  This bulky crochet throw pattern uses 4 strands of yarn held together, and works up very fast.   Give it a try, and before long, you will be cuddling up and staying toasty warm with a bulky, warm and comfy blanket of your very own!
This crochet throw is an easy way to jump on the giant blanket bandwagon without having to worry about the humongous balls of roving and massively huge crochet hooks or knitting needles.  An added bonus is that because it uses the 4 strands of yarn together, you will be able to sit down and make it within a very short time frame, because bulky crochet like this is a very fast craft.  It just takes a bit of practice getting used to wielding a larger crochet hook.
This also would make an excellent stash buster, because with 4 strands of yarn held together all the way through, you could make it a crazy colored blanket by using all your spare balls of yarn!
Thanks to Red Heart Yarns for sharing this Super Quick Throw pattern with us!
To Download the pattern for the big and easy crochet blanket, please click here.
Be Well and Stay Warm Friends!
Laura & Bruce
**If you would be so kind as to click on some or all of the Google Ads on our Spinner's Husband Blog page, it costs you nothing and will help support our site in bringing you free patterns daily.  We appreciate the support!