Crochet Christmas Stocking – Free Pattern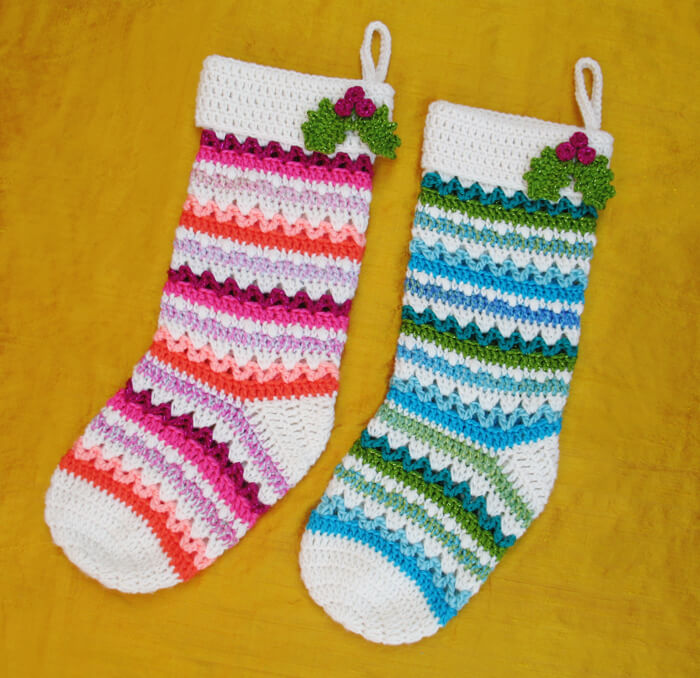 |
One of my favorite memories of Christmas as a kid, was digging into my crochet Christmas Stocking to see what Santa had left me!  With Christmas being just around the corner for some of us, I began to hunt in earnest for a nice crochet Christmas Stocking pattern for my granddaughter so that she can make some of those memories for herself as well!
Her all time favorite color in all seriousness  is "Rainbow", and I have recently hand painted some lovely skeins of yarn in a vivid rainbow colorway for her.  I think that one of those skeins is going to be earmarked to make her this free crochet Christmas stocking.  I always try to keep some rainbow yarn on hand for when she decides she needs me to make her something.
With a rainbow skein, the color-work is all done for me, but if you decide to make it, you can personalize it to your favorite colors, or the favorite colors of the recipient.  That makes this free crochet Christmas Stocking pattern a phenomenal stash buster!
Special thanks to Julie at Gleeful Things for sharing this free crochet Christmas Stocking pattern with us.
To get the pattern, and see a step by step tutorial, please click here.
Be Well Friends!
Laura & Bruce