Crochet a Vibrant CreamPuff of a Cowl for someone you love! Free Pattern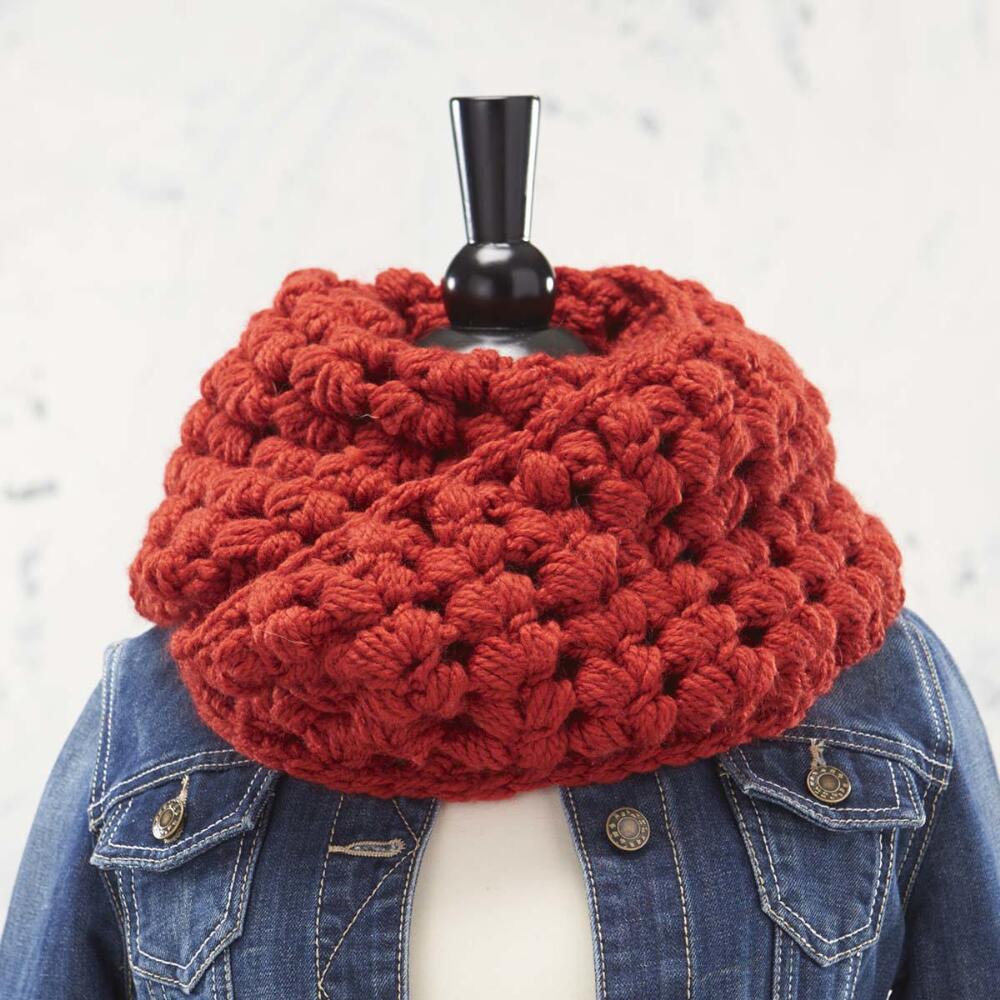 |
With Valentine's Day being literally just around the corner, I have begun to feel the pressure and know how behind I am in procuring little "love gifties" for my kids and Bruce.  That is where nice quick and easy, but still practical crochet projects come in handy, fingerless gloves, scarves, and of course the ever popular neckwarmer – the Cowl!
The crochet cowl pattern i have chosen today is called "Puff Pastry Cowl"  Just that name has me thinking of Grandma's kitchen, the smell of the cream puffs rising and baking and the whipped cream whipping and just like one of Pavlov's dogs, I fear I have begun to drool!
I'm sure you will have the same reaction when you see this crochet cowl.  It is as puffy as can be, as per it's name.  It looks fairly straightforward too, so you may even still get it done by Valentine's Day if you devote the majority of your spare time making it.
It is shown in a gorgeously vibrant, regal shade of red (of course), and when I see it, I just want to pick it up and squish it, rest it against my cheeks and neck and wrap myself in it's woolly luxury and love on it for a little while!  For an even more meaningful giftie, you can take this little "touch of Heaven" up a couple notches by choosing a luxury bulky yarn as opposed to using a basic everyday bulky yarn.  If you must use acrylic, please try to make it the softest acrylic you can, as it will be worn next to skin time and time again, and we do not want you to cause your Love "cowl burn" from a rough cowl irritating a sensitive neck.
Additionally, the cowl is crocheted with a size M-13-9mm hook and uses bulky yarn.  If you have trouble sourcing bulky yarn, you can also buy enough of the color in worsted and hold about 4 strands together for the same effect, or even hold 2 chunky balls together.  Lion Brand Wool Ease Thick and Quick wool held single would do the job quite well also.
You could also make one in every color if you find that you like making them!  Then you have some surprise gifts onhand if you should ever want to treat someone, or even treat yourself!  I think it's very cool that the puffs almost resemble little hearts too!
Another nice quality about this type of Valentine's Gift is that it is perennial and can be used year after year, which a box of chocolates or some cut flowers that will wilt and die cannot do
Special thanks to Willows Yarn for providing us with this awesome free crochet pattern!
To access the free crochet pattern for this delectable "Puff Pastry" Cowl, please click here.
Be Well Friends!
Laura & Bruce
**If you have a spare second, and would like to show your appreciation for this site bringing you fun and free patterns every day, please click on some or all of the Google Ads on The Spinner's Husband Blog page.  It costs you nothing to click on them, and helps us out enormously.  We thank you!!