Crochet This Quaint and Dainty Vintage Handbag – free pattern!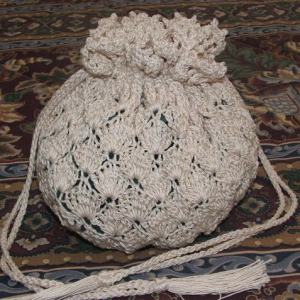 |
With all things "Downton" related these days, I would be remiss if I didn't include a couple of quaint vintage patterns for you to crochet and adore!  This lovely little bag is the first of more to come.
Crocheted in a memorable "pineapple" type stitch sequence, it is the perfect little crochet evening bag for a night out on the town with your Mister.   It is dainty, but should hold the essentials that you may need to carry with you.
The purse is made with 2 strands of crochet cotton held together, and does not apparently need a liner, although I'm sure you could put one in if you would prefer.
If you don't want to crochet it in crochet cotton, you could also use some nice bamboo yarn for a silky sheen to the purse, or pure silk for that unmistakable sheen.  You can dress it up or down depending on your vision for it!
Special thanks to Carol Ballard of Cobbler's Cabin blog for sharing this free vintage handbag pattern with us today!
To download your copy of the vintage crochet handbag, please click here.
Be Well Friends!
Laura & Bruce
**If you have a spare minute or two and would like to help support The Spinner's Husband Blog in bringing you fun tips, helpful advice and free patterns daily, please take a moment and click on some of the Google Ads on the Spinner's Husband blog page.  Clicking is free for you, and helps us a great deal!  We thank you!!