Crochet a 1 Hour Change Keeper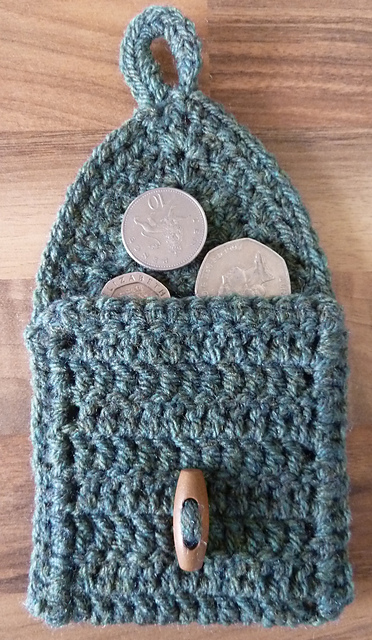 We all have change – it's inevitable.  To keep it all in one spot and not rattling around everywhere, crochet this adorable little change pouch!
In the summer, most of us don't like big voluminous crochet or knitting projects which take up room and add heat to our laps, and this little 1 hour change purse is the perfect crochet "fix" for a hot and sticky day!  Add a favorite or vintage button to make the project unique for yourself or it's intended recipient!
They also make awesome little gifts for the holidays or anytime and are a perfect stash buster project!
Special thanks to Ravelry and Melissa C. Gibbs for sharing this free pattern with us.
To download this crochet 1 Hour Change Keeper, please click here.
To help us to better serve you, we would like to know what type of projects/patterns you would like us to feature from day to day!  We will do our best to post something for everyone!
Be Well Friends!
Laura & Bruce
**If you think of it, while on The Spinner's Husband website , please click on some of the Google Ads (no purchase necessary) to aid us in bringing you fresh free content!  We appreciate the help a great deal!

About The Author
Laura and Bruce
To say simply "We Love Yarn" would be a serious understatement. My wife has been into Crocheting, Knitting and more recently Spinning for as long as I have known her. I on the other hand, am a computer geek who loves woodworking.