Crochet this Free and Easy Sparrow Shawl/Wrap Pattern!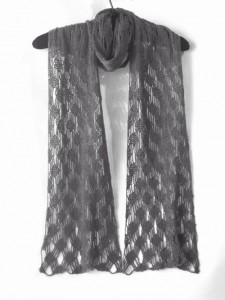 |
This light and lovely Sparrow shawl/wrap crochet pattern looks like you would have to spend alot of time and effort following incredibly complicated instructions, but if you read the instructions, you will see that it is actually much much easier than it looks!
This is a great little crochet shawl for throwing over your shoulders for a little warmth on your way out the door,for cuddling up reading a book, or an extra snuggly thing if your arms get a chill while reading in bed.  It is beautiful and multipurpose – the best of both worlds – not to mention easy – if you can chain stitch, you can make this wrap!  I think you will love it so much that you will want to make one as a gift for all of your special friends and family!  I would love to see pics of your finished shawls!
To download your free copy of the Sparrow Shawl, please click here.
Special Thanks to Gauge Knits for sharing this lovely shawl/wrap pattern with us today!
Be Well Friends!
Laura & Bruce
=======================
P.S.  Please remember to help us out by clicking on some of the Google Ads you see on the Spinner's Husband page while you are there.  Just like commercials help your favorite TV shows to be free, clicking on those ads, even if you don't buy anything, helps keep our site expenses down so that we can continue to bring you great free patterns!