Crochet Hearts in Unexpected Places! Free Pattern!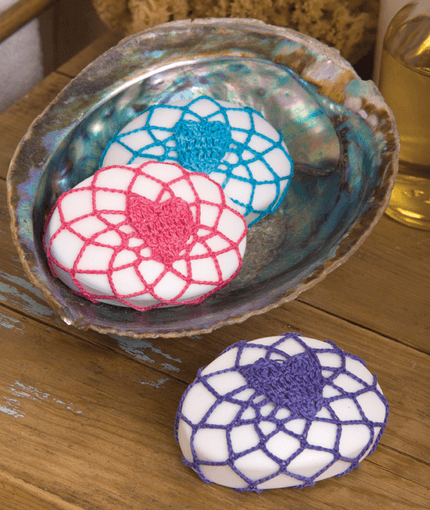 |
I absolutely love it when you are able to mix contemporary crochet with your interior design talents, and have the opportunity to bring crochet into the modern world in an unexpected new way.
We've all heard of "soap on a rope", right?   I guess you could call this a minor "take" on that idea, but this involves some yummy scented soap, some vibrant or soothing crochet cotton or thinner weight yarn, and crocheting a cobweb-like cover for your soap with an adorable little heart smack-dab in the middle of the soap to help us celebrate Valentine's Day.
I personally think the soaps are so pretty that they shouldn't just be shared on Valentine's Day, but rather all year round.  You can mix and match the thread/yarn colors and little motifs to suit the season or special occasion.
If you actually use the soap that has been covered as opposed to just having it as a decoration, you get the added bonus of exfoliating action of the cotton or yarn when you rub the soap directly on your body, similar to a loofah or bath mitt.
This pattern is a great stash-buster for those thinner gauge yarns you may have building up in your stash, such as sock yarn, fingering or lace weight, and or any remnants of crochet cotton left over from making doilies and other frilly whatnots and thingamajigs.  It's also a fairly quick project and it, along with the washcloths, will whip up in no time so you can create and gift with no stress or time crunch weighing you down!
If you are planning to gift these soaps for Valentine's Day or any other holiday for that matter, I would make a couple nice bars of soap(hand made by an art soap maker when possible), decorate them with the motifs and cobweb pattern, and then crochet or knit up several washcloths in coordinating colors as well, and bundle them together for a lovely personal gift.  Always check first though if the intended recipient of your gift has any scent sensitivity or is allergic to any type of fragrance, essential oil or other related substances that the soap may contain, to avoid triggering an allergic reaction from your gift!
Special thanks to Red Heart Yarns for sharing this gorgeous soap embellishment pattern with us for Valentine's Day!  Like I suggested, they can be made and given for any other holiday too, not just strictly Valentine's Day.  You can leave the motif as is, or just change it up to suit the occasions, but hearts signify love year 'round, and you can never have too much of that!
To download and get started on this free Soap Hearts crochet pattern, please click here.
Be Well Friends!
Laura & Bruce