Crochet Now, Never Too Early!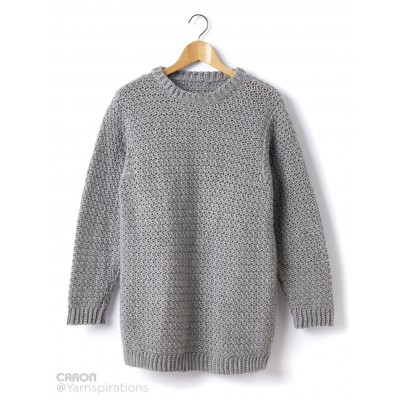 |
I know it is hard to imagine a time when we will all be chilly again, and need woolen garments to protect us against the brisk autumn days and the cold biting winter wind, while the incredibly hot rays of the summer sun is wreaking havoc on our plants, skin and comfort levels right now, but winter will be coming again soon enough, so it's time to start adding some warm crochet garments to our winter wardrobe for the year.
This crochet unisex, adult crew neck sweater is one of many patterns that will fill your repertoire come fall and winter, but I suggest that you start now so you are ready ahead of time!  Picture this – sitting nice and cool, sipping iced tea in front of your a/c unit (if you are lucky enough to have one) while crocheting yourself a gorgeous sweater for when you are cold and shivering for real!
This sweater would make a great Christmas or Holiday gift too!  Get a head start and be ahead of the game this year!  No more last minute panic!
Special thanks to Caron Yarns and Yarnspirations for this warm and cozy unisex sweater pattern!
To download and get your crochet on, please click here.
Be Well Friends,
Laura & Bruce
** Please don't forget to click some Google Ads on The Spinner's Husband Webpage if you wouldn't mind helping us to bring free patterns your way!  We truly appreciate the assistance!