Owl Keychain – Free Crochet Pattern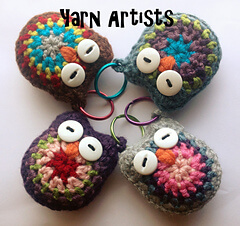 |
Given the off the wall popularity of our Free Crochet Heart Keychain pattern, I have decided to post another Free Crochet Keychain Pattern, this time with a most adorable wee owl on it!
When I was looking through patterns yesterday, I spotted the Free Crochet Pattern for this little Crochet Owl Keychain.  I immediately knew that I had to share it with you – it is a small, quick project, with plenty of time to make scads of them for Christmas, and it will make anyone who receives it very merry indeed!  They will want to know "who who" made it, and it will become a treasured object on their keychain, or hanging from the rear-view mirror in their car.
The original pattern itself can be downloaded by clicking here, and below you will find a video tutorial on how to make one that is smaller, and more suited to hanging on the end of your keychain.  The written pattern is available in English, German, Swedish and Dutch for your convenience.  You will have a "hoot" making them, so it's a win/win for all!
Special thanks to Rachel from Yarn Artists for the wonderfully written pattern and picture tutorial and also to Jonna Martinez who used baby weight yarn and a much smaller hook, and created the step by step video so that you can make your own teeny tiny owl.
Be Well Friends,
Laura & Bruce