Crochet Comfort Rice Bag Pattern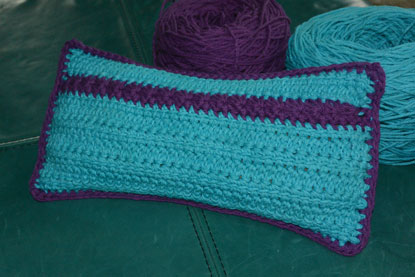 |
Headache or Sore Muscles?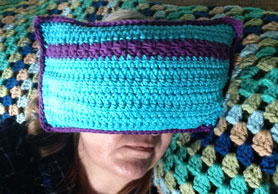 We have all suffered from some sort of headache, migraine or sore muscles.
This bag holds about 2 pounds of rice in a bag made of pantyhose so that the rice does not fall out.  The bag can be heated in the microwave but be careful as the Rice gets HOT very quickly.  Cold is also good for headaches and pulled muscles, so keep this in the freezer for when you need it.
The author suffers from headaches and was looking for some relief.  So instead of going out to the store to purchase one, she had all she needed around the house.  Yarn, hook, pantyhose and rice. So "see a need, fill a need".
The pillow will be about 7″ high by 13″ long.
What you will Need:
Bernat Handicrafter Cotton or Lily & Cream – 2 colors
5 mm or Size H Hook.
Pantyhose – a cheap pair from the dollar store will do
2 pounds of plain rice